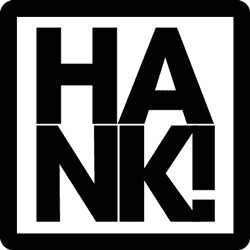 1969, les américains envahissent la lune.
Charles Bukowski s'en fout, il picole et enregistre ses poèmes, tout seul, dans sa chambre à Los Angeles.
2016, Bukowski est mort depuis un bail.
Trois mecs tombent par hasard sur ses enregistrements et décident qu'il ne trouveront pas meilleur chanteur, vivant ou mort.
Ils appellent le groupe HANK!.
Si vous aimez le punk bancal et le hip-hop crasseux, la basse épaisse et les courses de chevaux, les synthés enrhumés et la lumière des néons; HANK! est pour vous.
HANK! c'est beau comme un sexe avec les poils, comme un cigare écrasé dans une assiette pas finie, comme un smog accouchant d'un soleil.
/////

1969, the Americans have invaded the moon.
Charles Bukowski couldn't care less. He drinks and records poems, alone in his room in LA.
2016, Bukowski has been dead for ages.
Three guys happen upon the recordings and decide that they couldn't dream of a better singer, dead or alive.
The group HANK! is born
If you like wobbly punk music and filthy hip-hop, thick bass and horse races, nasal synthesizers and neon lights then HANK! is for you. HANK!'s beauty is like hairy genitals, like a cigar snuffed out in an unfinished plate, like smog giving birth to the sun.
/////////////////////
////////////////////

Les membres du groupe:

Eddy Godeberge
est un artiste plasticien, performer, vidéaste et musicien.
Il est diplômé des Beaux arts de Bourges et d'Aix en Provence.
Il joue dans les groupes, Tante Hortense, Massy Inc, HANK!
 Il est cofondateur du label de musique « Les Disques Bien », ainsi que du lieu de pratiques artistiques « Cap15 » à Marseille. Eddy Godeberge est aussi membre du groupe de recherche en art, « le Laboratoire des Hypothèses ». http://laboratoiredeshypotheses.info/
Il est le cavaquiste de HANK!

Julien Hô Kim
est plasticien sonore et musicien.
 Après son diplôme des beaux-arts, il multiplie les collaborations et diversifie sa pratique du son en travaillant avec des artistes, des vidéastes, des cinéastes mais aussi pour le théâtre, la danse, la radio ou dans un groupe de rock. 
Il est à l'origine de HANK!, projet musical autour de poèmes de Charles Bukowski. http://www.44100.org
Il est aux claviers et machines dans HANK!

Christophe Grémiot

est musicien et Ingénieur du son, il a enregistré et mixé de nombreux albums de musique actuelle et classique (Jan Dark, Mlle Sane, Nej, the option, Ivan Malherbe, Geo roy De Masure, HANK!, etc...)
Il travaille pour le cinéma et la télévision depuis plusieurs années en tant que mixeur sur des documentaires, lms de ctions, séries télé (France télévision, Arte, canal+, etc...).
Christophe Grémiot est également photographe pour le Festival International de Piano de La Roque d'Anthéron.
Il est le bassiste de HANK!
//////////////////////
Eddy Godeberge
is a builder, an electric cavaquinho player (for HANK!) and an excellent party organizer (specialy for his own birthday). He could work for the International Piano Festival of La Roque d'Anthéron. Multitask man, he can talk contemporary literature for hours while welding two steel beams or making several collages drinking galons of good red wine. His unique cavaco playing is the sound signature of the band even if the two others members (mainly the bassist) don't want to hear it in their onstage monitors. His two favorites sentences are : « i'm thirsty » « sorry, it's not a fucking ukulele »
Julien Hô Kim
is a graphic designer (for the International Piano Festival of La Roque d'Anthéron), a beat maker and others things (for HANK!) and an excellent lobster fisherman (for him). Even if this half vietnamese dude was born in the Parisian suburbs, he's in fact à black American guy. Just let him play some records in your next party, you'll understand why. This low and humble man is actually the band's backbone known as « the guy who says nothing but does everything » His two favorites sentences are : « I'm ok» « Sorry, I don't drive »

Christophe Gremiot
is a photographer (for the International Piano Festival of La Roque d'Anthéron), a bass player (for HANK!) and an excellent sound-engineer (for everything and everyone). This gruff and silent man can however talk about phase opposition and « andouillette » recipe for hours. As he is very competent in his different works, he's sometimes nicknamed « Ears and Eyes » but he's much better known as « The best bass player in the world of Montpellier ». He is obviously the spirit of the band. His two favorite sentences are : « I'm hungry » « Sorry, I don't do slap »
/////
HANK! est sur FACEBOOK et INSTAGRAM